PTR Document Management
Aug 11, 2022
At the University of Toronto, we receive annual merit-based pay raises through a process called "Progress Through the Ranks". This note is to intended to describe a setup for keeping track of information and documents relevant to PTR. For an overview of the process, see the Academic Administrative Procedures Manual. At the end of each year, your department will send you a batch of forms to fill out which will then be used by a committee to assess your performance. These forms are:
Accountability Report
Activity Report (there are variants for the teaching or tenure steams)
Paid Activities Form
Faculty of Arts and Sciences CV Template
You can get copies of the Activity Report and Paid Activities Form through the UTSC Vice Principal Academic and Dean PTR Process page. All departments send an internal memo outlining their criteria for assessment. Definitely consider reaching out to your chair for a full PTR package (or last year's package) early, so that you can plan your activities accordingly.
Filling out these forms requires noting down your accomplishments throughout the year. It can be challenging to find all the relevant correspondence and information, unless you have a system in place for keeping track of everything. Hopefully, this note will help you setup such a system as you begin your first year, and save you from a massive headache in April.
For such a system, we want something simple enough that it is not a hassle to setup or use. Right now, my system has three parts:
a plaintext file
a folder of e-mails
a folder of PDFs
You will want to keep these files backed up or stored in the cloud.
The Plaintext File
On my computer, there is a text file notes.txt which contains notes of all my work related stuff. Everything goes in this file: ideas for projects, notes about classes, and all PTR documentation. To make searching through the textfile easier, I include hashtags like #PTR or #ProfessionalDevelopment. This textfile aspect of the system was inspired by Jeff Huang's blog post: https://jeffhuang.com/productivity_text_file/
Consider the following slightly redacted examples of information in the textfile.
2022-03-01 

#PTR #Grants

"Letter from Vice-Dean Faculty Affairs, Equity & Success - PACF"
from: Eileen Egan-Lee


I am pleased to inform you that your application to the
Professional Academic Coaching Fund (PACF) has been successful. The
Office of the Vice Principal Academic and Dean will provide $XYZ in
support of your pedagogical and professional achievement at U of T
Scarborough (UTSC)

Letter:
~/Work/JobDocuments/Dossier/Documents/PACF_award_letter_Glynn-Adey.pdf

This is an almost verbatim copy of an e-mail that I got from Eileen. The amount $XYZ has been redacted, but it is an essential part of the PTR record. Notice that I've included the date and title of the e-mail, so that I can look it up. The last line tells me where to find the relevant PDF: it is stored with my Teaching Dossier files, because the grant concerns teaching. (A duplicate of that PDF is also put in a special PTR folder.)
2022-06-02 

#PTR #InvitedLecture

Spoke at the UW Faculty of Math teaching seminar.  (1 hour online)
"Teaching Strategies from Positive Psychology"

Slides: 
~/Work/Talks/2022-Waterloo-Math-Education-Seminar/
https://pgadey.ca/positive-psychology.pdf

For an invited talk, the relevant bits of information are title, location, and duration. Again, I keep a record of where to find the relevant PDF both locally and online. In this case, the PDF is a talk, so it goes with the documents relevant to Talks. (Additionally, I make a copy of the final slide PDF and put it in my PTR folder.)
The Folder of E-Mails
The other aspect is to keep an e-mail folder of all relevant correspondence. If an e-mail is relevant to PTR, I make a copy of the e-mail and file it away. When it comes time to compile my activity report, everything is in one spot.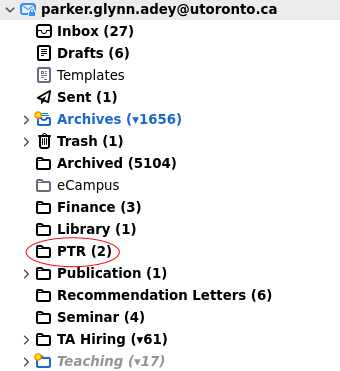 The Folder of PDFs
Lastly, I file away any letters relevant to grants, teaching assessments, posters of events, nice e-mail from students, or other cool teaching stuff that I'm involved in. This folder is ~/Work/JobDocuments/PTR/Documents and it contains a copy of everything that might be relevant to PTR. These copies are duplicates of the files stored elsewhere (as listed in the textfile). For example, a copy of the award letter for the grant listed above is in this folder.
Why keep this folder? The documents relevant to PTR naturally wind up all over the place. Keeping a folder specifically for PTR documents reduces the hassle of looking from the filesystem to find stuff. Moreover, archiving duplicate copies in one place is a built in form of redundancy.
Filling out the PTR Forms
Throughout the year, I update my CV as things happen, makes notes in the plaintext file, and file everything away. At then end of the year, when it comes time to fill out the PTR forms, I use the system outlined above as follows:
Look through the text file for #PTR hashtags
Copy over the relevant information to the forms.
Check the e-mail record for any missing information.
Select PDF pages to attach to the activity report.
It takes a couple hours to put everything together. Compiling your PTR report is still a non-trivial writing task with all the information in place. However, with this system, I never have the headache of trying to unearth ancient and forgotten correspondence or the worry that I might have missed some activity.
Thanks for Reading!
If you found this guide helpful, or have any suggestions that you'd like to add, please feel free to reach out to me by email.
Related tags: